Types Of Iranian Dates(The Complete List)
Iranian dates are one of the oldest products in southern Iran. Iranian dates are one of the five major agricultural exports. Due to the high production rate of Iranian dates and the tendency of consumers to use them, different kinds of dates are produced. Iran produces one million tons of dates after Egypt, Iran is the second-largest producer of Persian dates in the world. Sunexport is an Iran dates company mostly working with foodstuff and agricultural products. Our main products are Mazafati Dates, Sayer Dates, Piarom Dates, Rabbi Dates, Zahedi Dates, Kabkab Dates. The high quality of Iranian dates has led to attracting many fans around the world. Many countries in the world are the main importer of Iranian dates due to the excellent taste and quality of Iranian dates, such as Mazafati dates and Kabkab dates(Kimia dates).
Persian Dates are very diverse. It is also used in some foods in the form of syrup, palm sauce, compote, and jam. As well as in the alcohol industry, citric acid, yeast production, which is why the market for this product is even expanding even in industrial use. The main difference in the dates type is the type of sugar, as well as the amount of water or moisture contained therein. The total amount of sugar in different varieties of dates varies, but the difference is not high and is only a few percent. Sugars available in a variety of dates are fructose and glucose as well as sucrose. Soft dates are less sucrose than dried dates but have more water. In general, the amount of energy of soft dates is less than dry and semi-dry dates.
Persian dates in the world have popularity and brand and can have a good profit for exporters. Palm trees for breeding dates require a warm and dry climate. Limited areas in the world have the necessary conditions for exporting dates in different parts of the world. More than 34 countries produce dates.
Here, we provide complete information about the type of Iranian dates.
Iranian Sayer Dates
Sayer dates are part of semi-dry Iranian dates and one of a variety of consuming dates that is very nutritious. Also, Sayer dates are longer than the other dates. Also, the price is more reasonable and without the need for a refrigerator at normal temperatures. This feature has led the product to find countless fans. So, Iran can export sayer dates to the most distant parts of the world. The Khuzestan area in Iran produces sayer dates.
Sayer date is one of the best options for exporting dates is because it is a semi-arid dates that can be stored for a long time. The color of these dates is dark brown and has three large, medium, and small sizes. Special features of this date include high-calorie content, high nutrient content. It is possible to hold it for more than a year in a regular warehouse without a refrigerator. It should be noted that Iranian sayer dates are free of any chemicals are quite Organic.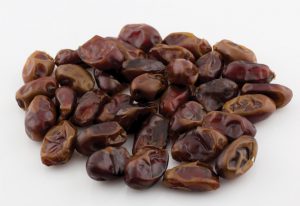 Iranian Piarom Dates
Piarom dates are one of the many varieties of Persian dates that have many fans in the world. Iran exports first-class quality, unique taste, long-lasting appearance, and long-lasting appetite to many countries around the world. In fact, Piarom dates are one of the most expensive and most popular dates in the world. Due to its type, it is also known as chocolate dates and has a unique flavor, excellent taste, long-term shelf life, as well as many properties.
Piarom dates are rich in sugars, proteins, and other minerals and have high nutritional value. Most of the sugar in this type of date is fructose. It is very suitable for people with diabetes and helps the metabolism of the body. The thin skin of Piarom dates is dark brown and it looks beautiful and desirable. The washing process is easy. Due to their low moisture content, Piarom dates are protected from souring, worm, fermentation and remain healthy until the age of 18 months. You can store it in the refrigerator for six months. The Sunexport Company, as the Iran dates company, uses the best-refrigerated carriers to distribute Persian dates such as Piarom dates with all the necessary internal and international standards approved by all countries of the world.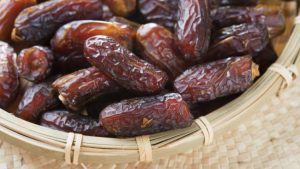 Iranian Rabbi Dates
Rabbi dates have a high nutritional value due to their natural sugar content. Also, Rabbi dates have a high nutritional value and are a good alternative to sugar. The ingredients of this product are lactose and fructose, which are rich in natural sugars. Its use does not have any harm people with blood sugar. The Rabbi palm tree needs warm and dry weather. Growing and growing rabbi dates in Sistan and Baluchistan province in Iran is very booming due to its ability to withstand dehydration. On the other hand, the fruit of this type of date tree grows very quickly and along with the Mazafati dates, which are also part of the dates of the area. The second type of the Iranian Rabbi Date is Robbi dates, which is smaller and harder with dark red skin, sweet, and cheesy colors.
These delicious dates are very popular with dark black and thin skin brown. It has different sizes, and its good type has a long and drawn appearance and a length of about 4 to 5 centimeters. Rabbi date is semi-arid and meaty. High shelf life in a long time to one year without refrigeration, is one of the main benefits of Rabbi dates. Also, this type of date fruit can be placed in a cool and dry place at home.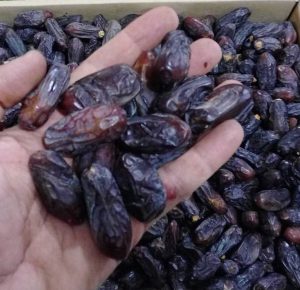 Iranian Mazafati Dates(Kimia Dates Iran)
Mazafati dates are one of the products of Iranian dates. Mazafati dates are One of the most important and famous varieties of dates that grow in Khuzestan inside Iran. Kimia dates Iran are one of the most valuable and most tasty dates in Iran and the world. Due to high humidity, this type of date is not a dry matter. So, its storage conditions are in the temperature range -5 to 5 ° C. These dates are from semi-humid dates with relative humidity between 15% and 35% depending on the time taken and the type and location of the planting.
Although most dates can be kept at various temperatures, It is recommended to keep Mazafati dates in the refrigerator away from the sun, and the heat of the environment does not prevail, as it causes The product storage time will be reduced or the product will be attacked by insects. The Mazafati dates are picked up late in the summer and are black, shiny, thin, and smooth. Mazafati dates are one of the most delicious varieties of dates in the world. The Bam city in Iran has the best Mazafati dates and wholesale dates suppliers. Syrup from Kimia dates Iran are useful to prepare nectar, natural sugar, liquid sugar, all kinds of food and sweets, chipboard, industrial alcohol, chocolate, etc. Sunexport is the best Iranian bam dates, wholesalers.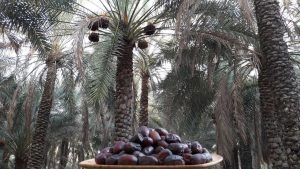 Iranian Zahedi Dates
Zahedi dates are one of the varieties of Iranian dates. One of the most economical and most reliable export quotes of Iran is Zahedi date( another name Zahedi date is Ghasab!). This oval date is due to the special color, special taste, and, of course, very simple storage conditions have many fans. Zahedi Date is one of the most popular dates in Iran and the countries of the world. These dates are dry and, in some cases, semi-dried ones. Zahedi date is very easy to transport and maintain, and it has very good taste.
Due to its high price and its rich properties, Zahedi is very well consumed, especially by diabetics. It has a high sugar content and is useful to produce alcohol and vinegar. Also, the core is clinging to the meat of the date. Zahedi dates are often picked up late in September, which is often continued until early fall.
Zahedi is rich in fiber, which is why people with digestive problems should consider it in their Diet. Zahedi's calcium is very high, which is why it is useful for bones. It has a lot of antioxidants that are very useful in preventing the growth of cancer cells. Also, Manganese in these dates relieves the nerves. These dates are the elixir of young people in advanced countries, and they have a lot of demands.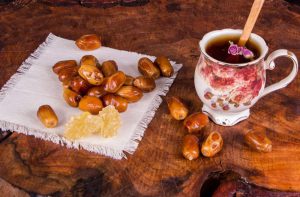 Kabkab Dates
Kabkab dates are one of the most economical export Iranian dates and have a dark brown color. Its oval core, along with high core adhesion to fruit, is one of the capabilities of these dates. Kabkab dates are anticancer due to magnesium. Also, these dates are useful for hearing, sight, back pain, joint pain, breast, and lung treatment. So, kabkab dates are one of the most Persian dates that provides energy for the body, especially during the day, for hard-core activities, or for athletes. This is a great food supplement for thirst, a huge source of iron and minerals useful to the body. Kabkab dates have anti-allergic properties for people with seasonal allergies.
In general, you store the Kabkab dates in cold stores or warehouses where the air is cooler than 5 celsius because it has a high potential for insect absorption. And the low temperature makes it easy to hold the date in a much longer time. The skin is clinging to the fruit and its sweetness is not very nasty.
Khasoyi Dates
Bushehr Province is one of the oldest provinces in Iran. Khasoyi date is One of the most Persian dates. Khasoyi dates are from the sweetest dates and have a small size. For this reason, although it is recommended that about 5 date fruit be consumed daily, in the case of khasoyi dates, this number can be increased up to 15 times a day. The amount of iron, potassium, and magnesium dates are roughly high. On the other hand, people who have bone problems or anemia can use khasoyi dates to help them.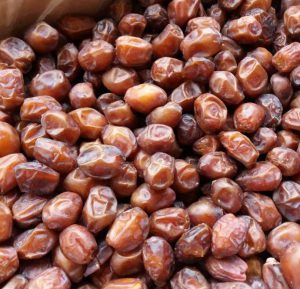 Shahani Dates
Shahani dates are one of the varieties of Iranian dates. These dates are narrow and have a narrow tip, often seen in bright brown color, although there are dark brown and slightly yellowish colors. Shahani dates, although cultivated in different cities of Iran, the mainland cultivating this date should be Fars province. Shahani date is rich in minerals, iron, and magnesium, and is a heart pacemaker and regulator of heart rate in traditional medicine. Contrary to the imagination of some dairy users, the Shahani date does not have high cholesterol levels and regulate blood cholesterol levels. It has a lot of iron and is very useful for people with anemia. In addition, it is also beneficial for the stomach and digestive system due to its high fiber content.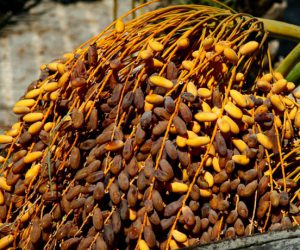 Dates, Black Gold of Iran, and one of the Iranian products that are used throughout the country to make and produce various foods and beverages. Iranian dates, along with Iranian saffron, Iranian pistachio, caviar, Organic golden raisins, Best Iranian almonds, and Iranian carpet in the world, are special and common. Iran produces 23 percent of the world's dates. Iran exports dates to 81 countries, including the UAE, Turkey, Afghanistan, and Pakistan. Each year, more than seven million tons of dates are produced in the world. Given the country's production, the ability to export Persian dates to most countries of the world is possible. Also, India is one of the most importers of Persian dates from Iran.
The Persian dates are one of the most valuable and best varieties of dates in the world. Even though palm dates are planted in many countries, especially Persian Gulf countries, however, the taste and quality of Persian dates can only be found in Iran. From the old to today, the provinces of Kerman, Khuzestan, Bushehr, Hormozgan, Sistan and Baluchestan, and many other provinces of Iran are the best place for Iranian dates. Packaging and maintenance of export Iranian dates are one of the most important export date laws because proper packaging prevents problems like corrosion and deterioration. Considering on mentioned features, Sunexport, wholesale dates suppliers, has developed an extensive network trading all the Iranian dates.
All of our products are originated from Iran's finest farms and plantations. Sunexport is an Iran dates company offer specially customized range of products catering to the requirement of our varied clientele. From Resellers, Wholesale, Snacks traders, aked good manufacturers, seasoning and ingredients companies, restaurants, to cattle food companies; we are the first and reliable choice of the vendors.
For more information, please contact us.