Why Iranian Nuts?
Nuts and dried fruits are one of the symbols of Iranian culture. Iranian nuts and dried fruits are one of the most important export commodities in world markets. So, Iranian nuts, due to its excellent quality, are among the most important examples of Iranian exports to the global markets. So, Persian nuts have many fans around the world. The great variety and the favorable and economical price for selling is one of the important advantages of Iranian nuts over the rest of the nuts. Iranians who in the past held their special warmth and traditional celebrations each month. Nuts are delicious food that has a special place in Iranian happy and religious ceremonies.

Nuts are a mixture of dried fruits and various kernels than previously thought it would be harmful to the health of the body. But now, researchers think differently. Long-term studies and research have shown that nuts can have a positive effect on the health of the body. In addition, nuts contain healthy fats that are good for body balance but can also lead to diarrhea and other problems.
Kernels inside nuts are a source of protein, minerals, and antioxidant vitamins. Nuts are a valuable source of protein, iron, zinc, calcium, potassium and many other minerals. The taste and shape of the nuts are tempting enough! Nuts have different types that each have their own special features. But most nuts have overall properties that are beneficial for the health of the body.
Nuts benefits
Using nuts as a part of a healthy and balanced diet is very helpful for the health of the body as well as the heart. Studies in this area show that people who use nuts as a diet for heart health reduce blood cholesterol levels. High levels of cholesterol in the blood are the main causes of heart disease. The source of protein nuts, minerals, are different. The vitamin (E) and protein in the nuts help maintain blood vessel health, lower blood pressure and prevent heart attacks. Above all, eating foods containing vitamin E, including nuts, reduces the risk of cancer.
The antioxidants in the food also prevent the destruction of cells and the development of diseases such as diabetes. Nutrient nutrients in nuts, in addition to lowering blood cholesterol and reducing the risk of cardiovascular disease, also have a significant effect on the prevention of osteoporosis and aging diseases. Also, nuts are beneficial in the treatment of depression. Furthermore, Nuts increase visual acuity and relieve fatigue and muscle cramps.
Types of Iranian nuts
Nuts are generally ready for eating and are ideal for snacks. Nuts have a lot of calories. Therefore, eating a lot of nuts and kernels during the fasting season will increase weight. The list of the most important and best-selling Iranian Nuts is as follows:
Peanut
Eating peanut is a great way for people who want to increase the amount of protein in their diet. Also, Peanut is widely available and provides some essential nutrients. According to data provided by the USDA, 100 grams of peanut contains 567 calories and the following amounts are from other nutrients: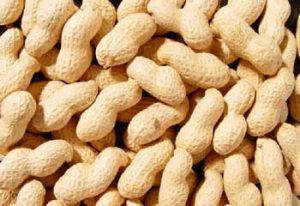 Protein: 25.80 g
Fat: 49.24 g
Carbohydrate: 16.13 g
Fiber: 8.50 g
Sugar: 4.72 g
Almond
In the last few years, almond eating has become popular and is now readily available in any region. Iran is ranked fifth among the world's leading almond producers and exporters. Almonds have a lower protein content than a peanut. But it has nutrients. Almond is a very good snack for those who are looking for a healthy alternative and a protein-rich alternative to potato chips.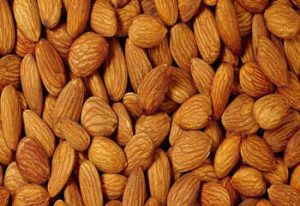 According to USDA, every 100 grams of almonds have 579 calories and have the following nutritional properties:
Protein: 21.15 g
Fat: 49.93 grams
Carbohydrate: 21.55 g
Fiber: 12.50 g
Sugar: 4.35 grams
Calcium: 269 mg
Iron: 3.71 mg
Magnesium: 270 mg
P: 481 mg
Potassium: 733 mg
Vitamin E 63 mg
Iranian walnut
Iranian walnut is famous in the world, and Iran produces the best example of walnuts in the world. So, The best walnut product in Iran is in Kerman province. Walnuts are high-priced nutcrackers that provide excellent protein, fiber, vitamins, antioxidants, and minerals. Also, walnuts have the highest levels of omega-3 fatty acids among vegetable foods. Walnuts are the best source of manganese and copper, magnesium and phosphorus. Walnuts contain the highest levels of vitamins B6, B1 and 5B (pantothenic acid). Many of the vitamins and minerals found in the walnut are needed for pregnant women. Therefore, pregnant women are strongly advised to use regular walnuts. Walnuts are rich in potent antioxidants and anti-inflammatory compounds, which help to improve the blood circulation system and blood vessels and maintain healthy cardiovascular health.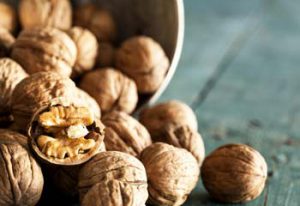 Along with 654 calories per 100 grams, the other nutrients are as follows:
Protein: 15.23 g
Fat: 65.21 g
Carbohydrate: 13.71 g
Fiber: 6.7 g
Sugar: 2.61 g
Also, Walnuts have fewer minerals than other nuts:
Calcium: 98 mg
Iron: 2.91 mg
Magnesium: 158 mg
P: 346 mg
Potassium: 441 mg
Hazelnut
Hazelnut is one of the relatively high-calorie nuggets. 100 g of these nuts have about 628 calories. Hazelnut consumes less fat and improves blood lipids. Since hazelnut is rich in nutrients including vitamins and minerals and fiber, it is one of the most effective seeds for health promotion. In sum, these seeds protect the body from many diseases, including cancers. One of the unique features of hazelnut is the high level of folate in it. Folate is one of the most important B complex vitamins that help prevent many diseases, including neural tube defects in newborn infants. Hazelnut, like sesame seeds, is one of the most useful seeds for pregnant women.
100 grams of hazelnut contains 628 calories as well as the following:
Protein: 14.95 grams
Fat: 60.75 g
Carbohydrates: 16.70 g
Fiber: 9.7 g
Sugar: 4.34 grams
Calcium: 114 mg
Iron: 4.70 mg
Magnesium: 163 mg
P: 290 mg
Potassium: 680 g
Iranian Pistachios
Iranian Pistachio is one of the most important and stable members of Iranian nuts, which has a potassium content of potassium oranges and is very important for its nutritional value. Kerman province and Rafsanjan city are the main centers of pistachio production in Iran. Iranian Pistachios have top-notch quality. In other words, Pistachio is one of the most important types of nuts in Iran and in the world. Iran is the largest pistachio exporter in the world.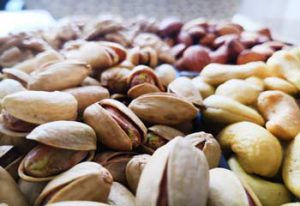 Pistachios can also be consumed fresh and dried fruit. To give them a better taste, they are strained with salt and water to make salted pistachios. Pistachio consumption is effective in preventing cardiovascular disease. It is also useful for relaxing and regulating heartbeats and calming the nerves and reducing bad cholesterol. The pistachio brain is due to the blood of the blood, and those with anemia should eat some pistachios daily. Eating pistachios strengthens sexual power. It also strengthens the brain and mind and helps to calm the heart and calm nerves.
Sunexport: One of the Best Persian nuts shop
Sunexport (Nut company in Iran) is pleased to announce the best Iranian nuts in different provinces of Iran, using its experts' knowledge and experience. Using the most modern packaging and preserving methods, nuts are distributed in major ways in different markets worldwide. Sunexport's brand name and brand, along with the date of manufacture and the expiration date of the product, and its storage conditions, are included on the product packaging. Buying and ordering products from Black Date Company is very simple. You can easily and simply contact our experts and visit the website of the best and most up-to-date and quality nuts in Iran.
You can also call our experts at Sunexport today to provide the best quality and guaranteed quality nuts.