Different types of Iranian dates such as Mazafati, Shahani, Piarom, Sayer, Zahedi, and Rabbi, provide the nutrients needed for the body according to its characteristics. But is that enough during Ramadan? Can dates, especially Iranian dates, provide the energy that we need? Muslims worldwide fast during the holy month of Ramadan, and it is a well-known tradition for Muslims to break their days with dates and warm water. Muslims do not eat or drink between sunrise and sunset, Iftar is the meal that they break the fast. All kinds of Iranian dates (Mazafati, Shahani, Piarom, Sayer, Zahedi, and Rabbi) will refresh you after about half an hour and help boost your energy. We know Dates are one of the best nutritious and beneficial fruits, which have a lot of energy and are highly recommended for most people, especially children, athletes, pregnant mothers, and so on.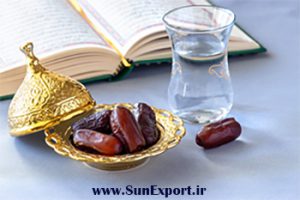 Why Do People Eat Dates During Ramadan?
Consumption of Iranian dates (Mazafati, Shahani, Piarom, Sayer, Zahedi, and Rabbi) is not only a tradition during this holy month but also a delicious fruit to eat. It is recommended to start your iftar by eating 2-3 dates, the dates provide the body with the sugar it needs and help restore blood sugar after fasting. One of the most common causes of headaches or dizziness during Ramadan is low blood sugar.
Furthermore, dates provide the body with the need for copper, magnesium, and sulfur, as well as half of the iron and a quarter of the body's calcium. Besides, consuming dates is effective in proper brain function and the growth of beneficial bacteria in the gut.
This fruit can be a good choice instead of industrial sugars and because dates release sugar slowly and gradually in the body, and also provide the necessary nutrients and fiber, it can be consumed in the pre-dawn meal and iftar meals throughout Ramadan.
Consumption of dates along with carbohydrates and flour products causes that during fasting, carbohydrates slowly release in the body and provide the necessary energy for the daily activity and the body does not suddenly lose sugar.
In addition to lowering cholesterol levels, dates can lower another type of fat in the blood called triglycerides. According to many pieces of research on Health, lowering triglyceride levels helps reduce the risk of heart attack and stroke.
Can dates be harmful?
Dates are not normally harmful, but if they ate too much, they are not as harmless as any other food. Excessive consumption of dates can damage the liver, spleen, and pancreas and increase blood pressure. Excessive consumption of dates also causes pimples and tooth decay. People with illness and medication or food allergies should avoid eating too many dates.
In another article, we have explained the benefits of dates fully.
Iranian dates include Mazafati, Shahani, Piarom, Sayer, Zahedi, and Rabbi and date products such as date syrup, date paste, date cream, and date sauce are healthy and delicious supplements for preparing sweets and various foods. In the holy month of Ramadan, the body needs to maintain energy. if we start from Ramadan to use them instead of industrial sugar, we will start a healthy diet.
Iran is one of the greatest producers of dates in the world and many types of Iranian dates are exported to the world. According to the geography and climate in Iran, the quality of cultivated dates is very great.
Dates and date products can be a good alternative to unnatural sweeteners because they have all the attributes of dates and in addition to good taste, they are also healthy.
SunExport Company, exports Iranian dates such as Mazafati, Shahani, Piarom, Sayer, Zahedi, and Rabbi, also date products suchlike date syrup date sauce date cream and date paste. If you're interested to know more, please contact us.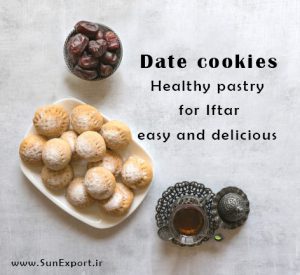 Healthy pastry for Iftar
I want to introduce a pastry which you can make it with the fresh date or date paste, and also it's really easy to make and suitable for iftar. This sweet is mostly made in the south of Iran because in those areas where many different kinds of Iranian dates are grown, for instance, Mazafati, Shahani, Piarom, Sayer, Zahedi, and Rabbi. many of the recipes of these local sweets are used in factories with date dough and other date products in the confectionery industry.
Date cookies
Prep Time: 40 minutes Cook Time: 20 minutes Total Time: 1 hour
Ingredients
Date 300gr or date paste

Butter 227 g

Flour 2½ c

Rosewater 1 Tablespoon

Milk 4 Tablespoons

Cinnamon 1 teaspoon
Preparation
Wash dates fruits well and remove cores from dates.
Add Cinnamon
Mix date and cinnamon with a fork
Roll the dates into a ball
Prepare the dough,
Mixing flour and butter into a large bowl
Add milk and rose water
knead the dough until it is soft and easy to shape.
Dividing dough the size of a walnut and roll. Fill the dough balls with dates
Or you can fill the middle of the dough with the date paste by spoon
– Roll out the dough again, and prominent side decorates by using a fork.
Bake for 15 to 20 minutes in a preheated oven (350°F)