Iranian date syrup, which produces from a variety of Iranian dates, is one of the most popular products among other products made from dates, which can have different colors depending on the type of date.
Dates and other products that produce from dates are rich in a variety of nutrients and vitamins, including Useful elements in date syrup is iron, potassium, protein, dietary fiber, calcium, copper, magnesium, manganese, selenium and zinc, and vitamins group A and C. Due to its remarkable properties, it can be the best alternative to artificial sugars.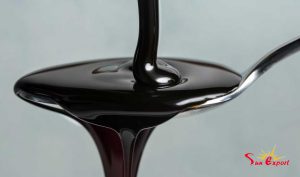 Date syrup uses in breakfast, sweetener for snacks or confectionery industry, and baby food, and it is also the best option to add to the diet of athletes because of the high energy it produces in the body. (Reading more about Date syrup)
As well the countries that buy this delicious and healthy product, we can mention Qatar, Oman, Indonesia, etc. In recent years this delicious Iranian syrup, due to its high quality, has been able to gain a special place in international markets, and also exporting of this product is continually increasing.
Good economic and political relations between Oman and Iran have provided an appropriate situation for the activities of many Iranian exporters, investors, and traders. Considering the geographical situation and low food production, Oman needs to import food and agricultural products from other countries. These conditions and nearness to Iran have made trade easier for Iranian traders and turned Oman into a market for Iranian products. Iranian food products quickly offer in world markets through the market of this country.
SunExpert Company is one of the leading companies in the export of dates and other date's products, including date syrup because of the history and quality of the products it offers, has a good position in international markets, especially in Oman.
Exporting to Oman (October 2020)
For more information and purchase, please contact us.