Different types of pistachios are grown in Iran. Iranian pistachios are the best pistachios in the world. Pistachios are an important part of sweet and salty Iranian nuts that produce in two kinds of raw and roasted and also have a lot of nutritional value.
Nuts are useful for pregnant women, especially pistachios and they should use raw, not salty! We know salty pistachios have many benefits, but in this case, they are harmful to pregnant women. Raw pistachios are rich in vitamins, minerals, and iron that provide blood and all the vitamins and minerals needed by the mother and baby.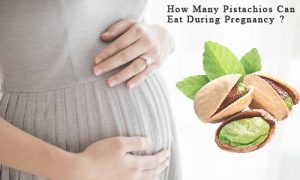 How many pistachios to eat per day during pregnancy?
pregnancy is a time that You must take care of your health in order to maintain the health of the fetus. You have to be sensitive to everything you eat during the day even foods that seem to be very useful, such as pistachios. It is not recommended to consume more than 15 pistachios a day during this sensitive period.
Excessive consumption can cause excessive accumulation of oil in the body which leads to nausea and headaches that are harmful to the brain. In pregnant women, excessive consumption of pistachios can cause muscle weakness which may lead to preterm labor.
On the other hand, pistachios have many medicinal attributes that prevent heart and nervous diseases also play an important role in reducing blood fat.
Minerals in pistachios:
Every ounce of pistachio (about 30g) contains 6 grams of protein, 3 grams of fiber, 12.7 grams of total fat, and 160 calories. around 20 number of pistachios can provide all the iron, calcium, and potassium a pregnant woman and her baby need.
What Are the Benefits of Pistachios During Pregnancy?
Treatment of anemia in pregnancy
Anemia is the most common problem of young women during pregnancy. Raw pistachios are rich in iron, calcium, potassium, and copper and can accelerate Folate uptake and increase red blood cells.
"By consuming a few raw pistachios daily, you will not suffer from iron deficiency and anemia"
Many mothers experience swelling and inflammation during pregnancy, which leads to joint pain. Eating pistachios reduce the pain caused by inflammation of the joints.
help to relieve constipation
Healthy and high-quality pistachios are high in fiber and have been recommended as the healthiest type of snack in pregnancy. adequate Pistachios intake can decrease morning nausea and treat constipation of pregnancy.
Better Fetal growth by eating pistachios
Pistachios are high omega-3 fats. Continuous consumption of omega-3s during pregnancy has a positive effect on fetal brain development.
The growth of the baby muscles and tissues depends on the mother's nutrition also; Pistachios contain high protein that helps the growth of fetal muscles.
Pistachios have vitamin A and D that prevents infection during pregnancy.
Can Women with gestational diabetes eat pistachios?
The diabetic pregnant woman can consume a variety of fruits and vegetables throughout the day but they should avoid the simple sugars found in different foods and they should put milk and dairy in their meals, especially breakfast and avoid ready meals. In fact, an appropriate diet for gestational diabetes also includes eating healthy foods and avoiding fatty, high-salt, or sugar-free foods.
pregnancy is an important time and a suitable diet is significant for the growth and health of the baby. the pregnant mother who has gestational diabetes should make sure to have a healthy diet under the supervision of a nutritionist specialist.
Consuming raw pistachios in pregnant mothers with diabetes can help control their blood pressure and improve heart health. Especially, salt-free pistachios consumption per day can reduce vasoconstriction and make the heart less pressure.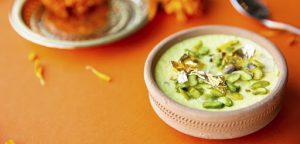 The Ideas of adding pistachios to the diet in pregnancy:
Phirni is a healthy and very tasty Persian dessert that cooks by rice flour or corn starch.
PERSIAN K Phirni | WITH PISTACHIOS
Prep Time: 5minutes
Cook Time: 15 minutes
Total Time: 20 minutes
Servings: 2 servings
PERSIAN PHIRNI | WITH PISTACHIOS

INGREDIENTS

rice flour

2 Tablespoon

milk – normal or vegetal

2 cup

raw brown sugar

2 Tablespoon

good quality rose water

1/2 Teaspoons

pistachio powder

3 Tablespoon

Pistachio slice for decoration
Preparation:
Pour cold milk into a non-stick pot pan and add rice flour
Mix milk and flour well so that it does dissolve completely. Make sure there are no lumps
put the pot on the gentle flame.
add the sugar gradually and stir well to thicken Phirni
When Phirni has thickened, add the pistachio powder and rosewater
Add the pistachio powder and rosewater, keep stirring gently
When the pistachio Phirni reaches your desired thickness, you can Turn off the heat.
Pour into a bowl and dress it with the pistachios.
Enjoy!
where buy high-quality pistachios?
Pistachios are one of the most popular nuts between Iranians, and they use that in pastries, desserts even meals. for designing their local pastries and food, they prefer using the powder of pistachio rather than powder of coconut or sugar. Sunexport is the leading supplier and exporter of various types of nuts and their products in the best quality and suitable packs. For more information, please contact us.