Apples have amazing health benefits, as one of the oldest proverb says, "An apple a day keeps the doctor away." Apples have a variety of flavors, colors, and shapes, nowadays they have grown in most countries around the world. Because of the low calories, Most people know apple as a weight loss supplement and put it into their daily diet.
This sweet edible fruit is rich in nutrients essential vitamins, but the thing that makes apples special is that they have a high nutritional density with fiber, vitamins, proteins, and minerals. It is so useful for digestive problems, regulate blood glucose and good cholesterol.
The wonderful health benefits of apples: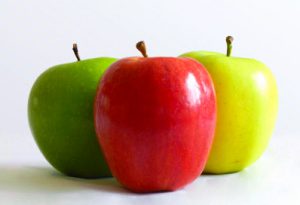 1.Protect Your Heart
Apple's fiber manages blood pressure, which may reduce the risk of cardiovascular disease different kinds of apples are packed with pectin, a soluble fiber that reduces cholesterol. Pectin plays an important role in preventing cholesterol from developing in the lining of blood vessel walls, therefore decreasing the risk of atherosclerosis and heart disease.
2.Brain Health
studies present that consuming a plant-based diet may prevent Dementia and Alzheimer's disease. Apples have Quercetin, a powerful antioxidant that keeps brain cells from degeneration in laboratory mice and might do the same in humans.
3.Help to Lose Weight
The fiber in the apple makes feel full for longer and prevents overeating, apples increase the body's metabolism rate as well. calories produce by apple burn faster and do not stay in the body. This news is valuable for people who are struggling with obesity.
4.Lowers Your Risk of Diabetes
one of the most important health benefits of apples is preventing blood sugar fluctuation, and control diabetes. The flavonoid is a type of antioxidant that plays an important role. Most sugar in each apple is forming of natural fructose. however, it has a different effect on the body than other sugars.
5.Fight Cancer
Most fruits and vegetables have anti-cancer properties but apples rank second only to berries in antioxidants, that making them heroes when fight cancer.
Base on researches Consuming antioxidant-rich foods can help prevent the oxidative stress that causes cell damage which may lead to the development of certain cancers. Studies in humans have found that eating apples can prevent the lung, breast, and prostate cancer, Fiber may also help reduce the risk of colon cancer.
6.Help to Fight Asthma
Phytochemical and Polyphenol are chemicals that give apples their healing attributes, they can help improve asthma, respiratory problems, and improve overall lung function. Research proves those children that drink apple juice regularly have a lower risk of asthma attacks and respiratory problems than those who rarely consume apple juice.
7.Prevent hair loss
Antioxidants found in apple increase blood circulation in the scalp and boost hair growth. This quality can attribute to the presence of nutrients called biotin, known as natural growth steroids for hair and nails. People often recommend biotin for hair loss. Research has shown that biotin improves hair growth and increases hair firmness and thickness.
8.Nourish the skin and improve texture
Apples contain vitamins C, A and B2(Riboflavin)that work on the elastic skin. These fruits can also help fight skin problems such as dry skin, cracking skin, pale skin and many chronic skin diseases.
You can put apples in your diet and see results for a long time. Also, apples help replace dead cells and repair damaged cells by improves circulation and oxygenation.
9.Increasing body energy
The natural sugars in apples have many benefits that we can't compare apple's sugar with artificial sugars. This natural sugar increases our energy, keeps the body cool and supplies the energy that we need at night.
Moreover, apples contain iron, which is important for blood formation and acts as a good factor in energy production.
10.Health benefits for the immune system
Vitamin C can help boost the immune system, apples are good sours of that, as we know the body can't produce vitamin C and it gets from the diet. Furthermore, Apple's skin contains the flavonoid Quercetin, which sets the immune system and decreases inflammation.
How to Make "Classic Apple Pie"
Pie recipe: It's better to start with a pie's crust.
Prep Time: 30 minutes
Cook Time: 1 hour
Total Time: 1 hour 30 minutes
Servings: 9 servings
Ingredients

Crust part

Filing part

3 cups all-purpose flour

·1 teaspoon salt

7 tablespoons cold butter cubed

7 tablespoons shortening cubed

1/3 to 2/3 cup ice-cold water

6-7 cups apples peeled and sliced

1 tablespoon lemon juice

1/2 cup granulated sugar

3 tablespoons flour

1/2 teaspoon ground cinnamon

1/8 teaspoon nutmeg
Preparation
In a medium-sized bowl, Combine flour and salt in a large bowl with a whisk.
cut the butter and shortening until the mixture resembles the size of peas with Using a pastry cutter.
Add ice-cold water a tablespoon at a time to one area of the dough and combine with a fork. Move to one side of the bowl and keep adding water just until dough is moistened (we don't want it to be sticky).
for mixing use your hands to quickly and softly fold over the dough a couple of times. Divide into two balls.
Roll one of the balls into a circle (12 inches) on a gently floured surface.
In a large bowl, add the sliced apples, sugar, flour, salt, cinnamon, nutmeg, and juice from the lemon.
Mix until combined then all apples cover by dough.
preheat oven to 375°F (200°C).
roll the dough softly onto a rolling pin and unroll over a 9″ pie pan and cut the sides so you have about 1/2″ overhang (Trim extra if necessary.)
The crust can be filling with pie filling. now Pour in apple filling mixture.
Roll out top dough, Trim the extra dough from the edges and pinch the edges to form a crimp. Seal edges and remove any overplus dough.
Brush the pie with the egg mixture and sprinkle with the sugar Cut 4-5 slits in the top pie to allow vapor to escape
Bake for 50 minutes until the crust is golden and the apples are tender. Be careful don't remain greyish or undercooked pastry
Enjoy!
Summary
Apples have wonderful benefits for maintaining our health, we can use apple in our diet in different ways such as dessert, juice, salad and dried fruit. SunExport exports dried fruits in the best quality and suitable packets. As you know, dried fruits are one of the most popular Iranian products. For further information, do not hesitate to contact us.