Walnut is one of the nuts which has amazing benefits and properties for our health. In this regard, walnuts are the king of beneficial nuts. The impressive point is The amount of phosphorus in it is equal to fish and rice and even eggs. Walnut kernels, in addition to cooking, are used as a carrier oil in pharmacy and aromatherapy. Walnuts are very energetic and are rich in sources of magnesium, zinc, copper, potassium, vitamins B1, B3, vitamins E, A, and B8. It is also very useful for strengthening the eyes, hair, and nails due to its vitamin A content. It also has a high-calorie content, prevents weakness and lethargy, and strengthens the nerves.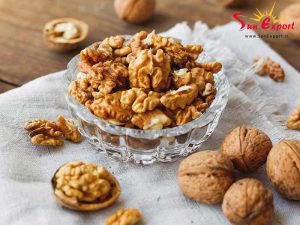 Diabetes
Walnut kernels contain large amounts of unsaturated fats (omega-3 fatty acids). The body can't able to make omega-3, so we should prepare it from foods. Omega-3s reduce fat and blood pressure and prevent irregular heartbeats and also improve insulin resistance, one of the primary symptoms of type 2 diabetes.
Diabetics can eat walnuts without worry, these nuts are the healthiest part of the diet for diabetics, and those who are prone to this disease.
walnuts and high cholesterol
Walnuts are rich in "plant sterols" and can reduce bad cholesterol. Plant sterols have a chemical texture that is like cholesterol. That's why they can absorb bad cholesterol in the intestines and decrease it. When bad cholesterol in the blood reduces, the risk of cardiovascular diseases, such as Cardiovascular disease, is reduced.
Heart Health
Walnuts contain high amounts of omega-3 fatty acids (especially Alpha-linolenic acid), vitamin E, magnesium, folic acid, and Phytosterol, which are beneficial for the heart. Besides, monounsaturated fatty acids and fiber in walnuts help increase HDL, or good cholesterol, and lower LDL, or bad cholesterol.
Omega-3 fatty acids reduce triglyceride levels by increasing HDL levels and lowering LDL levels, and reducing the formation of atherosclerotic plaques in arteries. Walnuts are also helpful for improving blood vessel function, reducing the risk of plaque formation in the arteries.
How walnuts can suppress appetite?
Research has shown, eating walnuts can activate an area of the brain, which is related to controlling hunger and food cravings. Walnuts also help reduce appetite due to their high levels of nutrients and protein, and by preventing overeating, they can help you lose weight, lose weight, and reduce belly fat.
Further, walnut consumption improves the body's metabolism and is useful for weight loss and weight loss.
If you eat walnuts before a meal, you will have no appetite for overeating. In this case, not only you don't overeat, but also you consume a lot of fiber. Because walnuts are high in fiber, they last a long time. When fibers enter the stomach, they absorb water and become bulky. That's why you won't be hungry anytime soon.
Benefits of Walnuts for the skin
Vitamin E is a very low-fat antioxidant that is needed to maintain the integrity of the cell membrane of the mucous membranes and skin by protecting it against harmful oxygen-free radicals. Also, Walnuts and walnut oil have powerful hydrating features that act as a skin moisturizer and help treat dryness.
Vitamin B plays an important role in rejuvenating and maintaining healthy skin, vitamin B through nourishing the skin to make healthier and fresher cells.
Walnuts contain potassium and this mineral aids the function of skin nerve cells. It also prevents the secretion of excess fluid in the skin, so it prevents it from loosening and puffing.
Benefits of Walnuts for the hair
The vitamin B and biotin in walnuts boost hair growth. Omega-3 fatty acids support the hair roots and strengthen their strength. Creatine is the main ingredient in the hair structure and strengthens and makes it flexible. Selenium deficiency can lead to excessive hair loss. Walnuts have all the nutrients needed to strengthen hair, and it prevents major skin problems such as hair loss, dandruff, and baldness. As a result, walnuts are one of the most valuable nutrients for hair.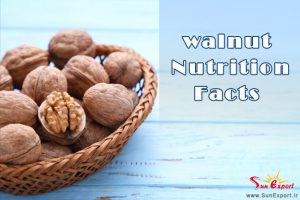 Nutrition Facts
Serving Size
1 oz (14 halves) (28g)
Calories
186
*% Daily Value *
Total Fat 18.5g
28%
Saturated Fat 1.7g
9%
Trans Fat ~g
Cholesterol 0mg
0%
Sodium 0.6mg
0%
Total Carbohydrate 3.9g
1%
Dietary Fiber 1.9g
8%
Total Sugars 0.7g
1%
~ No added sugar data collected
~
Protein 4.3g
9%
Vitamin C 0.4mg
0%
Vitamin D 0mcg
0%
Iron 0.8mg
5%
Calcium 27.8mg
2%
Potassium 125.2mg
3%
Phosphorus 98.3mg
8%
Data Source: USDA Food Data Central.
Minerals

%DV
~ = missing data
Weight
28g
Calcium
27.8mg
2%
Iron, Fe
0.8mg
5%
Potassium, K
125.2mg
3%
Magnesium
44.9mg
11%
Phosphorus, P
98.3mg
8%
Sodium
0.6mg
0%
Zinc, Zn
0.9mg
8%
Copper, Cu
0.5mg
50%
Manganese
1mg
42%
Selenium, Se
1.4μg
3%
Fluoride, F
~μg
~%
summary
Walnuts are one of the most favorite nuts for Iranian people and they use it in many local foods and many sweets. Furthermore, one of the common habits of Iranians is to eat walnuts with cheese for breakfast.
Iranians can produce the best walnuts due to the variety of climates. SunExpoer exports the best Iranian nuts. for more information, contacts us.