Iran Pakistan
After Pakistan became independent in August 1947, Iran was the first country to distinguish its self-governing status. Nonetheless, economic and trade relations persistent led to increase in both absolute and relative terms, resulting in the signing of a Free Trade Agreement among the two countries in 1999. Both countries are establishing members of the Economic Cooperation Organization (ECO). At the moment, both countries are collaborating and developing alliances in a number of areas of mutual interest, such as struggling the drug trade along their common border and fighting the Balochistan rebellion along their border. Iran has stated an interest in joining the China-Pakistan Economic Corridor.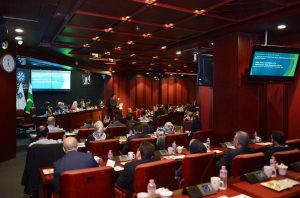 Our marketing manager, Mr. Sepehr Ghaffari attended a joint meeting of the Tehran Chamber of Commerce and the Embassy of Pakistan. At the meeting, which the representative from Iran foreign affairs, the representative of the Asia-Pacific Trade Development Organization and also Pakistan ambassador in Iran- Ms. Riffat Masood- were attended, several opportunities were put in place for businessmen and Pakistan-Iran trade issues were discussed.
The following topics were discussed at the meeting:
The necessity of free trade zone established between Iran and Pakistan
Issuing a 6-month Pakistani visa for Iranian merchants
Eliminating non-tariff barriers for Pakistani businessmen
Electricity sales in exchange for buying rice
Increasing number of flight from Iran to Pakistan and reverse
Roles of International trading companies like Sunseas business Group as a commodity trader
The Pakistani private sector has great potential and experience, and with the interaction and cooperation of the private sector of two countries, there will certainly be significant economic development and economic collaboration between the Iran and Pakistan.
"It was a constructive and enlightening meeting, I talked with Ms. ambassador and we agreed that considering our company trading potentials and vast network through the world, we have potentials start a long term trading corporation with the Pakistani Traders exporting vast range of products including Fruit concentrate, Fresh fruits, Dates Products, FMCG products some other commodities in food section.", Said Mr. Ghaffari.