Iran Bulgaria
The place of origin of the Ancient Bulgarians is most likely Eastern Iran, a group of researchers and scientists have demanded after an investigative journey to the Persian lands.
Our marketing manager, Mr. Sepehr Ghaffari attended in a joint meeting of the Tehran Chamber of Commerce and the Embassy of Bulgaria. The representative from Iran foreign affairs, Secretary General and Deputy of Iran International Affairs and also Bulgaria ambassador in Iran- Mr. Christo Polendakov- were some of this meeting attendances. Furthermore, businessmen of private sections form both Iran and Bulgaria were present at this meeting.
The volume of trade between the two countries in 2017 was about $121 million, while the Bulgaria imported about 3.2 billion dollars of goods from the Middle East region this year, while imports from Iran was only $ 62 million, and This should be rooted. At the beginning of his speech, Bulgarian ambassador, Christo Polandakov, referred to the imminent holding of a joint commission between Iran and Bulgaria, he said that it is worthwhile for the private sector of the both Iran and Bulgaria to take advantage of this opportunity and promote bilateral trade relations between the two countries. He expressed hope that the two sides could find ways to develop commercial relations and implement the usual compliments. Polandakov then referred to the cultural and cultural links between Iran and Bulgaria, indicating how these two sides are close to each other and, of course, two countries have brilliant business backgrounds.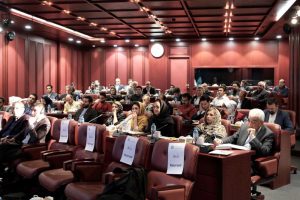 In the end, Mr. Ghaffari discussed great potentials of Bulgaria market regards importing dried fruits and vegetables, nuts and kernels and also fresh date fruits and dates products with Mr. Polendakov and his colleagues. Bulgaria is a cold regain, therefore consumption of nutritious food is a prominent matter due to energy saving throughout the day. Therefore, products such as Energy drinks, Nutrient bars (chocolates) and other kinds of snacks filled with various types of nuts and dates can act as real energy boosters. In the end, if the meeting, Mr. Ghaffari as a representative of Sunseas business group Announced their readiness for supplying every Bulgarian company who were interested to start working with Iran and interested in buying foodstuff products.